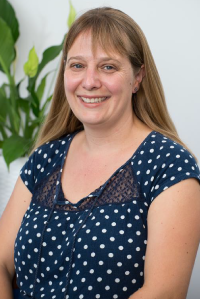 Fransette Swanepoel
BSc. Physio (Stell)
Fransette qualified in 1999 at Stellenbosch University
She started her working career, providing musculoskeletal physiotherapy, workplace assessments, injury prevention work in an Occupational Health Setting.
In 2001, she moved to the UK and worked at Gloucester Royal Hospital for a 2-year period. She rotated between orthopaedic in and out patients, as well as working in the ICU and surgical wards.
From 2003-2013 she was a Senior Physiotherapist at Musgrove Park Hospital in Taunton, working on the Orthopaedic wards and in the Out patients' department. Her role also included:
Managing other hospital staff members with musculoskeletal injuries, doing workplace assessments and writing management reports (including individualized graded return to work plans).

She ran a Spinal surgery review clinic on behalf of the Spinal Consultants.

Fransette participated in specialized vestibular rehabilitation and

Treated Patients with Chronic Pain.
From 2005- 2013 Fransette was involved in presenting a six-week Rehabilitation Programme to patients with ongoing back pain. This involved using Neuroscience Education, exercises and other self-help techniques to help this client group. The success of this program, really sparked her interest in helping this group of patients.
For her last 3 years in England, she worked closely with her Hospital's Pain Clinic and their Clinical Psychologist. The Psychologist would directly refer patients with severe disabilities due to their Pain Problems. Fransette would see these patients on an individual basis to help facilitate a return to function/to achieve their specific life goals. 
In 2013, Fransette relocated back to her home town of Somerset west, and is now working with Inanda at Busamed Paardevlei hospital, treating mainly Orthopaedic Patients and Persistent Pain Patients.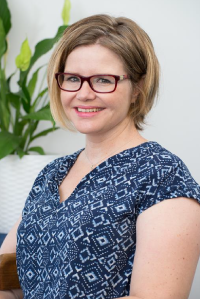 Inanda Leeb
BSc. Physio (UP)
Inanda qualified in 1992 at the University of Pretoria.
In 1993, she started working at an outpatient practice in Polokwane.
In 1996, she did an outreach year in conjunction with a church group in Malawi and Zimbabwe.
She started clinics in the rural areas, teaching people basic back care, healthy exercise programs and milestones for babies. She also trained nurses to continue the service.
From 1997-2005 she started her own Hospital Practice at Polokwane Medi-Clinic. During this time, she also started a Physiotherapy and Occupational Therapy Clinic at Atok Mine (about 70 kilometres from Polokwane). For a period of 3 years she ran the clinic and visited the mine once a week. In that time, she treated many chronic pain patients, since almost all miners have chronic back and knee problems.
From 2006 she did locum work at Vergelegen Medi Clinic in Somerset West.
She also started a Childcare Facility in Somerset West. She felt there was an enormous gap for preschool childcare, where children were stimulated and not just kept busy. The school has been full for the last 5 years and is going strong.
In 2013, she started a Private Ppractice in Somerset West, exclusively treating a surgeon's patients, while continuing to locum for the Vergelegen Medi Clinic Physiotherapy Group.
In 2015 Busamed hospital opened in Strand and Inanda and Fransette was approached to manage the Orthopaedic Ddepartment at the hospital. They have been blessed to work with wonderful surgeons and it has been a great learning curve for them.
Her passion has always been to make her patient's lives a little bit easier and she is excited to embark on a journey of learning more about the Pain Management field.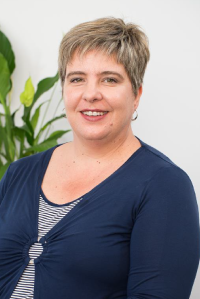 ANNELIE BENADE
BSc. Physio (UFS)
Annelie has always been passionate about people and is deeply grateful for the opportunity to be able to work with people in pain on a daily basis –very much aware of the great responsibility we as Health Care Practitioners have to treat people in pain with compassion and the best possible practice.
She qualified in 1994 at the University of the Free State and worked in private practice (in-hospital and private rooms) at Hydromed Hospital in Bloemfontein and Vaalpark, focusing mainly on Musculoskeletal- and post-operative rehabilitation.
In 2007 -2012, she worked in the UK with Parkbury Physiotherapy as part of a pilot program for the Red House General Practitioners (GP) Group, incorporating Private Physiotherapy services with NHS GP Surgeries as part of a Multidisciplinary team. During this time, she acted as a mentor for the final year physiotherapy students and did in-house training for the GP registrars.
Annelie worked as lead Physio at the Shenley branch near St Albans, treating Musculoskeletal-, post-operative-, pain- and neuro patients.
In December 2012 Annelie joined Francia de Witt in private practice in Strand and became increasingly interested in Pain and Pain Management.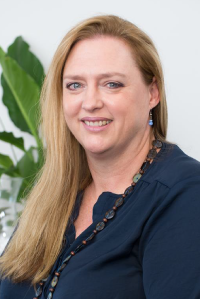 Francia de Witt
BSc. Physio, MSc(OMT)(Stell)
Francia qualified in 1994 at Stellenbosch University and has been working in the Winelands area for 13 of years.
From 1995 - 1998 she worked as a physiotherapist in the USA in out-patient, in-patient and nursing home settings and was the head of rehabilitation in a newly created out-patient clinic in Michigan.
In 1999, she returned to SA and started working in private practice, first in Swellendam and then in Stellenbosch, seeing a combination of orthopaedic and chronic pain patients. She worked in association with Dr Ina Diener from 2005 and had the privilege to have her as mentor. This enforced her passion for physiotherapy as profession and to strive for excellence and to be up to date on the latest research. She also completed the Orthopaedic Manual Therapy 1 course, which was offered over one year by the South African Society of Physiotherapy (SASP).
In 2008, she acquired her MSc Physiotherapy in Orthopaedic Manual Therapy (OMT) at Stellenbosch University. In 2014, Francia completed the Pain Certification Course offered by the SASP over 3 years. This was a pivotal point for her to change her way of practicing and treating patients with chronic pain.
She has done clinical supervision of final year physiotherapy students at Stellenbosch University from 1995 to present, as well as clinical supervision of the MSc students. She sees this as helping to give back to the profession and helping to develop the younger generation of physiotherapists.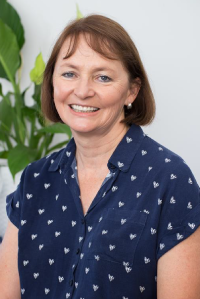 Amaritha Meyer
Nas Dip Physio(UP)
After qualifying at the Physiotherapy College in Pretoria in 1979, Amaritha started working at Kalafong Hospital in Pretoria. Thereafter she worked at a private practice in Pretoria and later relocated to Messina. Here she took up the challenge to start up a private practice, as there had never been a physiotherapist in town before. With very basic facilities available and far away from any specialists, it was a great opportunity for her to treat the full spectrum of conditions and she sometimes even did some Occupational Therapy.
In 1986 she completed the OMT (Orthopedic Manipulative Therapy) post graduate course in Johannesburg.
She relocated to Somerset West in 1996, where she joined a private practice, treating mainly musculoskeletal and orthopaedic conditions.
Amaritha completed the OMT post graduate course again in 1999 in Stellenbosch and started her own private practice in 2000, focusing mainly on spinal-, musculoskeletal- and orthopaedic conditions.
In 2004 she was approached by residents from Helderberg Village and agreed to start a Back Maintenance class there. This has ever since been an absolute delight and pleasure for her to see how the elderly people enjoy and benefit from these exercises. Truly one of her real joys in life!
After attending an "Explain pain" course with David Butler and Lorimar Moseley in 2008, a new mind set as how to deal with and understanding pain opened up to her.
This was only the start of a still ongoing journey of learning more and getting more involved in pain management for her.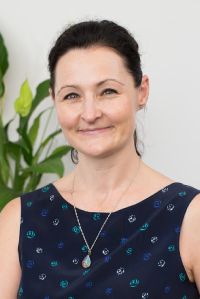 Lee Scott
BSc. Physio (UFS)
Lee qualified in 1999 at the University of the Free State.
She worked for 2 years in a private practice in Bethlehem in the Free State, seeing patients with orthopedic-, musculoskeletal-, and neurological conditions. She managed a satellite practice in Senekal and saw patients in private practice and nursing home settings, as well as home visits.
In 2002, she opened a Private practice in Somerset West and has been in solus practice since then, but have shared premises with various Health Care Professionals, including a Dietitian, Biokineticist, Physiotherapist and General Practitioner. Her rooms were also situated next to a Chiropractic Practice for a few years. It was a privilege for her to learn from these Health Care Professionals and it has opened her mind to many different approaches to treating pain. It also made her realize how important it is to treat each person as an individual, as no two people are the same.
She started out doing home visits in Somerset West and seeing orthopaedic-, pain and musculoskeletal- conditions. Being a ballet dancer herself, Lee had a special interest in treating Dance Injuries and shoulder conditions, but over the years her special interest moved more towards Pain and in helping patients with acute and chronic back-, neck-, and shoulder pain.
She is passionate about networking with other Health Care Professionals and Specialists and have built up good relationships with many Practitioners in the Helderberg area.